Actors' Innovative Resource: Preparing GA Actors for the Big Leagues
Actors' Innovative Resource
| | |
| --- | --- |
| Press Release | For Immediate Release |
Actors' Innovative Resource Announces
Preparing Georgia Actors for the Big Leagues

ATLANTA, Georgia (February 23, 2011)
– Beginning Saturday, February 26 through the month of March, Actors' Innovative Resource (A.I.R.) will offer several new classes and workshops to prepare Georgia's talent base to be competitive with Los Angeles and New York-based performers. A sampling of our continuously evolving roster of courses includes: Writing for Sitcoms with Lamont Ferrell (Hollywood veteran writer/producer for over a dozen shows including House of Payne, Are We There Yetand Girlfriends; the latest event in our "Showbiz Toolkit Series" – Actors Who Work (In Alternative Ways) with panelists John Crow (actor/announcer for the Georgia Lottery), Kaira Akita (entrepreneur/actress in Why Did I Get Married) and Jason Kehler (stunt man/actor); and Commercial, Theatrical and Model Agent Fest with J. Pervis Talent and Click Models of Atlanta.
A.I.R. operates out of Studioplex's Community Room located at 659 Auburn Avenue, Atlanta, GA 30357 adjacent to the Inman Park neighborhood.  All classes, workshops and events can be viewed online at www.aireatl.com.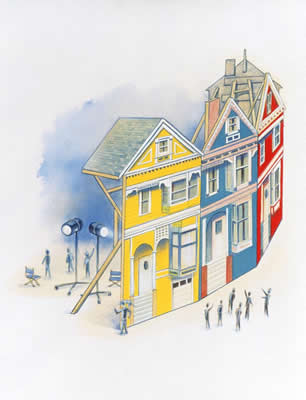 Hollywood Comes to Georgia
Thanks to the 2008 Entertainment Industry Tax Incentive, more productions are making their home in Georgia than ever before.  There are at least eight, TV shows being lensed in the state.  However, is our talent base prepared to meet the demands of Hollywood?  According to many Hollywood insiders the answer is, "No!"  Actors are still being imported in from as far away as Los Angeles just to speak one line.
A.I.R. seeks to address that deficiency by going beyond just acting technique.  There are many locally-established acting schools that provide acting training, but seldom do they address the demands of a professional, working set or casting office.  Roman James, Founder and Chief Creative Officer of A.I.R. founded the organization to address the limitations of the market after she relocated here from Los Angeles in 2008.  Since she could not find what she needed as an actor in this market, she decided to create it.  We have a unique mission and we strive to achieve it by offering specific, yet comprehensive instruction with legitimate, industry professionals.

About Actors' Innovative Resource
Actors' Innovative Resource is a unique and distinctive career support organization based in metro Atlanta for actors.  We operate out of the Community Room at Studioplex, a creative, professional, loft space located at 659 Auburn Avenue, Atlanta, Georgia 30312.
A.I.R. was founded Spring 2009 to address the lack of professional development and opportunities to network with credible, entertainment professionals.  Our mission is to serve the film and television community by providing career strategies and tools that will develop local talent into competent, competitive and exceptional performers at the national level.  We offer workshops, classes, networking opportunities and bona fide information from qualified professionals on a rotating basis.
Actors' Innovative Resource
Roman James
Founder & Chief Creative Officer
roman@aireatl.com
404.734.5176