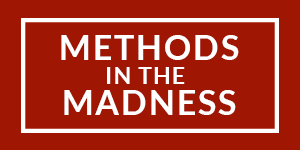 Methods in the Madness…1.19.15
Hi.  It's MLK Day and SELMA, cast and shot in Atlanta, is in theaters now so get out and support it if you can!  Here's your Methods in the Madness…(information we frequently answer, or wish talent knew/would do/wouldn't do…)

HELP US HELP YOU TIP #24 –  800Casting profiles show how many days since your last update.  If it's been more than six months, you need to go in and do a review.  Update credits, check which headshot is up, make sure sizes are correct, etc…  We use this system for internal tracking and all submissions that don't happen in ActorsAccess, so it's an important tool for you and needs to be current.

YOU CAN'T KNOW TIL YOU KNOW TIP #24 – Agents get extraordinary amounts of email (today is slower than usual and I've already rec'd 275)  This is not a complaint, it's the way of the job, and we're always working at being timely in replying but please know, we're not ignoring you, ever.  Urgent requests demand priority and we move the rest as quickly as we can.  Here are some tips:

You can always resend non-urgent in a few days if no word back but please not twice in 36 hours

I've shared before but we prefer separate emails for each topic so we can file what is complete as we go.

Make sure no duplicates coming in from you/your team (Parent or manager plus actor sending same note)

Keep in mind that late day emails will prob be addressed the next day, allow time for us to get into the office, read them and respond.  This is especially true for requests to tape in house.

Cleaner communication from you is easier for us to plow through. Be brief where possible & we will do the same.  Pls don't consider short replies rude, we are simply trying to be efficient.  

Just as your resume is easier to read in columns, your questions are easier for us to process if bulleted so try that where possible.

Tell your friends who want to submit to mail in their submission, not email it.  And if you're referring them, they can write your name in sharpie on the front of the headshot (more on this another time but pls be discerning.)

NEWSY BIT – Marsha Crenshaw (brilliant) is offering a voiceover workshop, "How to Create Character Voices for Animated Films/TV Shows, Radio/TV Commercials, Cartoon Network & Video Games."  It's interactive w/limited seating.

January 24, 10am -1pm

Cost $110: Take advantage of early registration by Thursday, January 22nd,  save $20 = Cost $89

To Register, contact: 404-769-4205 or 404-872-7276 or email: expressionstheatreandfilm@gmail.com

Marsha Crenshaw's vocal abilities are rather elastic, including a wide variety and age range from signature Narrator/Spokesperson includes: (Deadly Women, 13th Annual Fancy Award Show, Ga. Power, Delta Airlines, Ford Motor Co,. Home Depot, Sprint, Medicare, Coca-Cola) Character/Animation:(TV Series: Frisky Dingo–Dottie Bunch; Monsters of the ID-Cyclone and Amanda; Sealab2021- Joy; Brak Show – Mom; Reality Check – Dev the computer; and various characters from Cartoon Network)  And Alarmingly Realistic Animal Sound Effects: (The Parrot for The Washington Post TV commercial; Golden Retriever on an ICY HOT TV commercial; an attacking Boston Terrier for Ga. Lottery TV Commercials, etc.)

Dellis Caden Noble has been teaching voiceovers for ten years and working as an actress/voiceover talent and director for some 20+ years and a member of SAG-AFTRA. Just to name a few of her credits: Spokesperson for Goodyear, IBM, Craven Films, Kodak, Six Flags, MTV, Zocor, Chick-Fil-a, Atlanta Ballet, Cartoon Network. And  stage directing credits include: 12 Anger Women, Charlie Brown and Friends, Cats, Tree Frog's Tale, Sylvia, Original Comedy, Noah, The Musical, and The Legend of Sir Cleges. She, also, directed and produced, and casted short films: Chance Encounter, Love Happens, Another Day at the Office, Prison of Hope, and the documentary, Battle of Hope and etc,

Expressions Theatre and Film actors have been successful in VOC and VO for Television Shows/Films/Radio/TV Commercials some of the credits include: CSI, Criminal Minds, Devious Maids, Drop Dead Diva, 30 Rock, Desperate Housewives, Bernie Mac, Eve, Judging Amy, Blue Collar Comedy, That 70's Show, Charmed, iCarly, Eli Stone, Cartoon Network, State Farm Insurance, Subway, Rooms to Go, O' Charley's, Six Flags, Raising Helen, The Terminal, The Perfect Man, Diego, The Fantasia Barrino Story, and Roxy Hunter's movies.  Expressions' Triple Threats in Broadway Tours: Dr. Seuss' How the Grinch Stole Christmas the Musical, and Beauty and The Beast.  An Expressions actor has even sung, danced and performed for the President of the United States, in the ABC Special, Salute to the Troop!