GET presents Inherit the Wind
Courtroom Showdown!
From Perry Mason to Ironside to Law & Order
…and everything in between…
Inherit the Wind started it all.
Today's riveting courtroom dramas are all a result of Inherit the Wind's ability to connect with an audience. Don't miss this American epic – the original courtroom faceoff that gave way to an entire era of entertainment.
February 24 – March 13
Get your tickets here.
BEHIND THE SCENES
Want to be a fly on the wall?
Take a peek into the rehearsal process and watch this epic event come together. Follow along
here!
YOUR COMMAND PERFORMANCE
EVERYONE HAS A STORY.
WHAT'S YOURS?
Have you ever experienced a moment in your life and thought, "This could be a play or a movie"? Here's your chance to get your story on stage. For one night only, the story of your choosing will be transformed into a one-act play and performed on the GET stage.  A cast of professional actors will perform the play under the direction of GET Artistic Director, Robert J. Farley. A graphic designer will create a poster, program and invitations for your friends to see the show. The production will have one performance, with a reception following, in September of 2011. The guest of honor will receive a DVD of the performance and an autographed, bound script.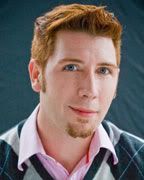 Topher Payne
This is a once in a lifetime opportunity to honor a loved one or preserve a moment from your history.
Raffle tickets are $15 each, or 10 for $100
Sale closes at 3:45 pm on April 24, 2011 and
Winner will be drawn at 4:00 pm on April 24, 2011
GET YOUR RAFFLE TICKETS HERE!
Georgia Ensemble Theatre
at the Roswell Cultural Arts Center
Roswell, Georgia 30077-0607
770-641-1260
www.get.org